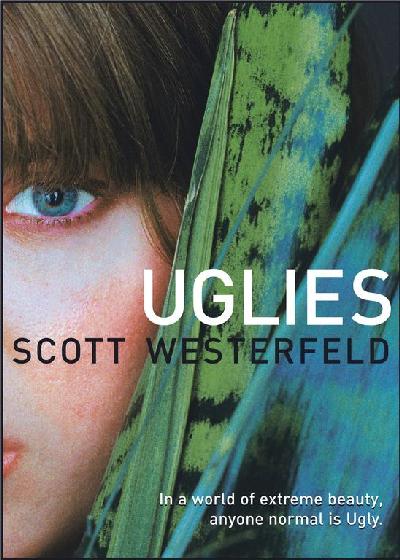 "Everybody gets to be supermodel gorgeous. What could be wrong with that?"
Tally Youngblood is about to turn 16, and she can't wait. Tally is an ugly and turning 16 means getting the operation that makes you into a pretty. Tally and her best friend Shay spend their last couple months as uglies, playing tricks, hover boarding, and sneaking out to visit the ruins of the "old world." Everyone wants to become a pretty; no one thinks twice about it, but Shay isn't so sure. When Shay runs away, Tally is forced to make a decision that will change her world forever: turn her friend in, or never turn into a pretty at all.
Uglies impressed me more than I ever expected it to. It was simply awesome. Scott Westerfeld added just the right amount of emotion, action, and detail to make the book a truly enjoyable read. Uglies embodies the idea/theme of accepting yourself the way you are. This idea becomes very clear throughout the book as Shay, who from the very start already likes the way she looks and is, helps Tally start to love and embrace herself for who she is inside and out…even as an ugly. The theme also ties in with one indirect societal issue that the book discusses: society's high expectations. Even though the book is set in a dystopian future, the society issues are very much the same as today. Most people are not very happy with who they are or how they look, thanks to society. In Uglies, everyone is brainwashed into believing that they're not good enough until they become a pretty, and in the real world it's precisely the same! We're all brainwashed by society into thinking that something like "perfect" actually exists. In conclusion, Uglies is definitely a must read for anyone who likes a fast-paced and suspenseful book into a not-so-far-off future!